How to Create and Use Job Roles
To Create a Job Role, start from the Admin Panel in the navigation dashboard on the left side of your screen.
Once on the Admin Panel, click on the Tickets button in the navigation bar at the top.
Once inside the Tickets Dashboard, you can click the +Add button to create a new Job Role.
A form will appear that will ask you the Name, What type of Cost, the Cost Value, the Billable Value, the Minimum Value, and what type of Billing Unit (shown below).
Once that information is filled in, click Create and you will have a Job Role that is ready to use on your Tickets.
Job Role Form:

Example: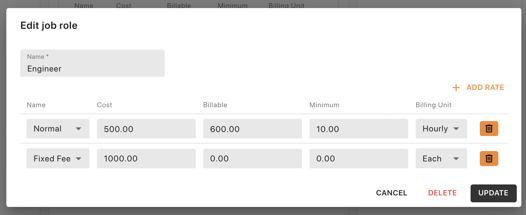 ---