Learn how to add a new Checklist to your Chekhub account
You can follow the text guide below or if you would like to see a more visual representation you can follow our
Slideshow
To create a Checklist, start from the Checklist Dashboard in the navigation dashboard on the left side of your screen.
Once on the Checklist Dashboard, click on the button in the top right that says Create Checklist.
Enter a name for the new Checklist.
You are able to enter Qualifications that may be required to complete this Checklist.
You are able to set the Safety Concern Level for this Checklist, letting your teams know if there are any risks.
Once you select the Toolbar tab, you are able to go through and build your checklist the way that you see fit. For more information on what each component can do, take a look at our article on Checklist Components.
You are able to add steps ranging from Text, Decision Trees and Media Uploads to suit whatever job you desire.
Click the Checkmark to save your changes.
Once the Checklist is saved, make sure to Publish that Checklist from the top right of the screen so that it can be used in your Tickets.
You have now added a new Checklist to your Organization!


Example Checklist: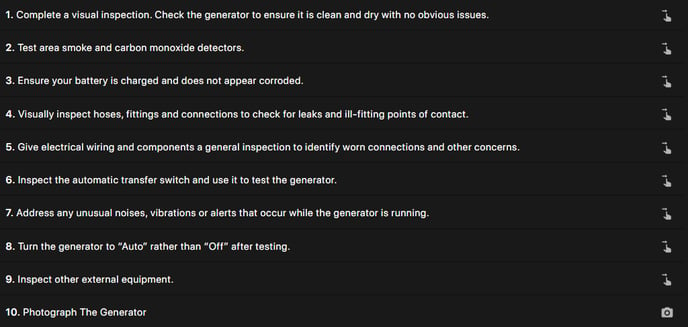 ---